Professional Fiat/Alfa/Lancia Diagnostic tools

FiCOM diagnostics software allows you to perform complete diagnostics of all 1995-present Fiat, Alfa and Lancia models. Diagnostics is performed via OBD-II connector (which is located near steering wheel).
You can order all our Fiat related products online from our sister website
www.obdtester.com/order
. We ship worldwide.
FiCOM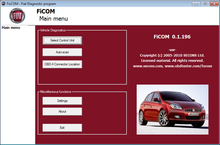 FiCOM
is diagnostic software for Fiat vehicles. Smart multiplexed Fiat OBD2 to USB diagnostic interface is included in price.
FiCOM
is able to diagnose wide range of control units (Injection, body, ABS, Airbag, ...) and covers vehicles since 1996.
[Read more...]
.
3pin adapter
For older vehicles you will need 3pin adapter to OBD2, it is available from
www.obdtester.com/obd2_adapters
.
See also
Contactform
If you need more information about our products, please use this form. You can also mail us at <info@secons.com>.