opel tech2
Opel Tech 2 Diagnosis Handheld tester

The Opel Tech 2 offers diagnostic functions available for 1992 and newer General Motors vehicles. Tech 2 software is individual for each brand.
The Opel Tech 2 Scan Tester is a scan tool for GM and affiliated (e.g., Suzuki, Isuzu, Holdens, Saab, AM General, and Opel/Vauxhall) dealerships worldwide.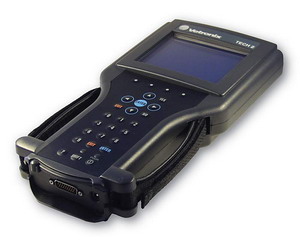 Tech 2 Scan Tester Features
Authentic GM software provides the most comprehensive diagnostic software available for GM vehicles
Support for On-Board Diagnostics (OBD) on all GM systems 1992 through current model year
Capture stored Diagnostic Trouble Codes (DTCs) and Freeze Frame data
View status of vehicle diagnostic tests as they run
Full bidirectional control when performing Powertrain, Chassis and Body diagnostics
ECU Reprogramming functionality for 1993 and newer GM Flash Programmable ECUs
Easy-to-read backlit screen
Tech 2 Scan Tester Specifications
Dimensions: 12" x 6" x 2"
Microprocessor: 32 bit, 16MHz
Memory: 32 MB flash type II PCMCIA. Type III slot available for future expansion
Communications: RS232 port
Screen: 3.8" x 2.8" backlit monochrome with full graphics capabilities: 320 x 240 pixels. Displays up to 9 vehicle parameters at once.
Tech 2 Scan Test Software
The Tech 2 Scan Tester has three primary software functions:
Diagnostics
Service Programming (ECU Reprogramming)

Reprogram existing ECUs
Replace and Program new ECUs

View Captured Data

Freeze Frame
Failure Records
See also

Important notice:
Please note that this page is about original diagnostic tool provided by vehicle manufacturer. The tool can be usually bought only by authorised dealer. We do NOT sell this equipment. The page is intended only for educational purposes.
We provide our own third-party scantools for automotive diagnostics, both for after-market repair and as an alternative for original delaer tools. Please use navigation bars at the top of this page or left navigation menu to select appropriate diagnostic software.